SoCalMotoGear
Regular price
$179.00 USD
Regular price
Sale price
$179.00 USD
Unit price
per
Sale
Sold out
This is a power distribution accessory hub. This hub is made by SoCalMotoGear and is designed to fit the new Goldwings. This allows you to safely connect aftermarket lighting accessories to the CanBus system on the 2018 - present Goldwings.  PAH60GW-V2
PATHFINDERLED® POWER DISTRIBUTION ACCESSORY HUB FOR GOLD WING (protected) - Also referred as (isolation fuse block, electronic fuse block, can bus isolator)
Designed to handle modern lighting, equipment and high performance electronics. A must have for the modern Gold Wing 2018 - Present (Weatherproof + Fuse less design).

This POWER DISTRIBUTION ACCESSORY HUB offers superior protection for your connected electronic accessories from a central location. The PAH60GW-V2 (Power Accessory Hub) is rugged, compact, and weatherproof (IP67) equivalent. Easily connect aftermarket lighting such as running lights, third brake lights, or auxiliary equipment without worrying about lighting errors or CANBUS fault codes. No complicated software to install/configure. The PAH60GW-V2 connects to your 12v power (battery) and has plenty of power to keep all your electronics running!
Utilizing solid state electronics and advanced components, the PAH60GW-V2 is a fuse less design. Each input is protected by a built-in automatic circuit protection; there are no fuses to carry around or replace. System automatically shuts down when an overload is detected and the LED status indicator informs the user if there is a fault. Simply turn off the motorcycle for 5 seconds to reset and be on your way. This comes complete with sub harness. These will fit all 2018-present Goldwing and Goldwing Tour models.
This is an advanced Power Distribution Accessory Hub with 60A Max power enclosed in a weatherproof housing design using advanced circuity and should not be mistaken for a fancy fuse box/cheaply made isolator. Competing models have 20A Max power.
This product is designed to connect all PATHFINDERLED LIGHTING or 3rd party accessories into one central location (protected).
This product is also referred to as a Canbus Isolator/Electronic fuse block, just built 10x better than competing models.
Item:   SCMPAH60GW-V2   SoCalMotoGear    
Share
View full details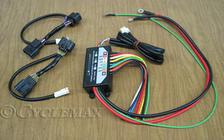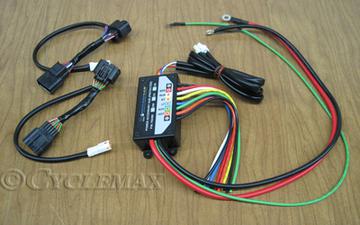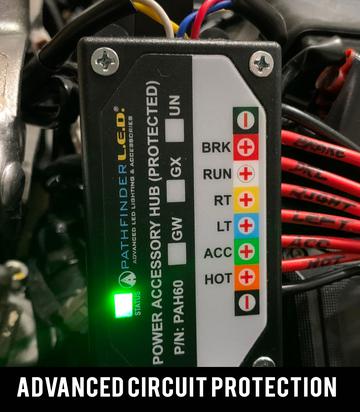 Works great.
I have installed it in my new bike. Works great.
Thank you for sharing your positive experience with our Power Distribution Accessory Hub! We're thrilled to hear that it's working great on your new bike. It's always rewarding for us to know that our customers are satisfied with their purchases and find them reliable. If you have any questions or need further assistance, please don't hesitate to reach out. Safe travels and happy riding!