Cyclemax
Regular price
Sale price
$20.00 USD
Unit price
per
Sale
Sold out
This is a pair of T-Valve stems. These nickel plated plated valve stems are designed for Tire Pressure Monitoring Systems with external sensors. These new patented T-Valves are designed to be an option to replace existing rubber or metal valve stems. Now anyone can install their external TPMS wheel sensor in a semi permanent application and add or remove air without having to remove the sensor. This is a big plus in those hard to reach locations and adds extended life to sensor seals. The T-Valve can also accommodate the sensor locking system for added security if needed while still offering access for tire inflation without removing the lock or sensor. This labor saving device also adds an attractive appearance to any wheel with its shiney finish and engineered valve caps. This will fit both the front and rear wheels of all Goldwing GL1800's and F6B's. It will also fit the rear of the GL1500's but, not the front.  CM1044
NOTE: These are not compatible with the factory TPMS (tire pressure monitor system).
Note: For those of you trying to fit these on a bike other than the GL1800, here are some dimensions. The diameter of the threaded portion of the stem that would fit through the hole in the wheel is .400" or 10mm. So, the hole in your wheel will need to be slightly larger than that. The height of the stem from the rubber washer that would be against the wheel to the top of the chrome cap is 1.400". You will need to make sure you have enough clearance on your wheel for this plus any sensor that you may be installing on the top of it.
Item:   CM1044    
Share
View full details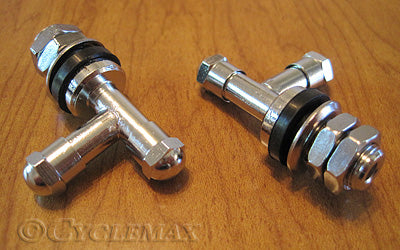 Nickel Plated T-Valve Stems
Awesome!
These are perfect for F6B's like mine that don't have a TPMS. I put the aftermarket TPMS transmitter Cap on the top valve, and use the side valve for adjusting air. Looks great on the bike as well. And I cannot help but also thank you guys for helping me get the order in. ( Super customer service )
Nickel Plated T-Valve Stems