SoCalMotoGear
Regular price
Sale price
$55.00 USD
Unit price
per
Sale
Sold out
This is a pair of LED ultra-flash Pathfinder taillight bulbs. These red 7443 style wedge bulbs are made by SoCalMotoGear and are designed to be a direct replacement for the trunk and saddlebag taillight bulbs on the 2001-2017 GL1800 Goldwings and F6B's. These are sold as a pair. 7443RP
New! PathFinderLED® Ultra-Flash High-Intensity LED Bulbs – Seconds Do Count!
New ultra-flash feature emits a series of quick flashes when your brakes are applied and may help reduce rear end collisions. No complicated modulator to buy or wire splicing!
Designed to increase visibility! PATHFINDERLED bulbs are known to be one of the brightest with "instant intensity" and now have an ultra-flash feature. These new bulbs are used for tail/brake lamps and can cross fit different applications because of its compact design.
Not to be confused with other lights on the market that flash sporadically, have illegal number of flashes, or resemble emergency vehicles. Our bulbs emit four quick flashes when braking, then remains solid until the next time your brakes are applied. This new ultra-flash feature is programmed into the bulb. This critical feature may help alert motorists/distracted drivers behind you, giving them extra valuable seconds to brake sooner, and possibly avoid rear end collisions.
According to the National Highway Traffic Safety Administration (NHTSA 2010), 90% of rear-end accidents caused by delay in driver recognition could be prevented if the driver becomes aware of the situation just one second earlier.
PathfinderLED bulbs provide optimal lighting with its ultra brightness, rugged design, and proper fitment in stock housings.
Ultra Flash LED bulbs carry a 5 year replacement warranty (proof of purchase required).
Item:   SCM7443RP   SoCalMotoGear   
Share
View full details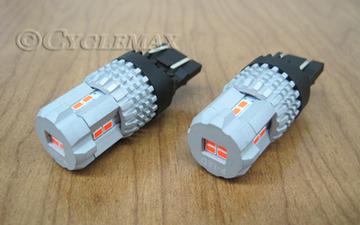 Great Visibility
Simple. Easy. Visible. Great product!