SoCalMotoGear
Regular price
$168.00 USD
Regular price
Sale price
$168.00 USD
Unit price
per
Sale
Sold out
This is an ultra bright sequential LED spoiler light with a dynamic brake light. This is made by SoCalMotoGear and is designed to replace the spoiler light on all Goldwing GL1800's from 2001-2017 that already have a Honda lighted spoiler. This enhanced LED spoiler light was designed with the rider in mind. It was designed with high visibility features such as Dynamic Brake light and Dynamic Sequential turn indicators. These features will set your Goldwing apart from stock models. When the brakes are applied, the ultra bright dynamic LED's activate in a rapid fire flashing sequence which instantly alerts drivers behind you to respond quicker than they normally would. When the turn signals are activated, our sequential LED's have a dynamic swoosh effect which resembles that of modern vehicles and increases your visibility. With the built in dynamic brake light feature, it eliminates the need to purchase and install a 3rd party modulator for your spoiler light. This light functions as a running light and brake light as well as left and right turn signals. The LED's for the running and brake are red while the LED's for the turn signals are amber. This is a plug and play unit with no splicing required and it comes complete with all of the mounting hardware and instructions. Select the correct year of your bike when ordering. SPL-0110, SPL-2012
    Note: Plug N Play for (US) GL1800 models. NON US SPEC models may not be Plug N Play. Consult your local motorcycle technician in your country for installation options. The product will fit, just not plug n play. 
DYNAMIC BRAKE LIGHT
Pulsates 4 times before going solid to notify a trailing driver your vehicle is slowing or stopping. May help with reducing Rear-End Collisions.
 
"90% of all rear-end collisions are avoidable if the driver had one more second of warning."
Source: National Highway Transportation Safety Administration (NHTSA 2010)
Item:  SCMSPL-0110, SCMSPL-2012  SoCalMotoGear
Share
View full details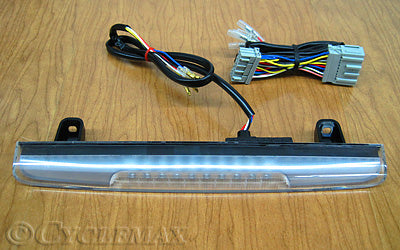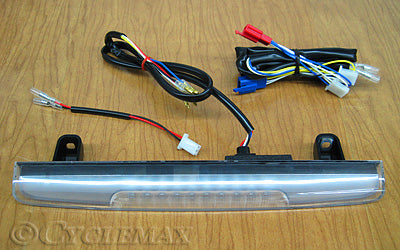 Fantastic spoiler light replacement
It was stupid in the first place for the original one to not even be a running light it was only a brake light this new updated light is fantastic it's very bright as an eye level tail light and of course the blinking during breaking is a plus.
I especially love the sequential turn signal feature!