Cyclemax
Regular price
Sale price
$65.00 USD
Unit price
per
Sale
Sold out
This is a pair (one left and one right) of saddlebag dividers. These black fiberglass dividers are made by Cyclemax and are designed to fit perfectly in the main body of the saddlebags. They are contoured to conform to the floor of each saddlebag. The raised side forms a barrier between the main body and the door. This prevents items from falling out of the main body when the door is opened while still allowing the entire space of the saddlebag to be utilized. These will fit all Goldwing GL1800's and F6B's from 2001-2021. Be sure to select the correct set for the year of your bike when ordering. CM1054A, CM1054B, CM1054C
NOTE: The dividers for the 2018-2021 bikes are currently on back order. Plus, the cost of materials on these has gone up drastically so, we have raised the price on the backordered units as a guess as to what the new price might be. We don't know yet. If you order that style, we will hold your entire order until we get more in and then ship your complete order at that time.
NOTE: If you are installing these in a 2018-2021 with the amp installed in the left saddlebag, you may have to trim the divider slightly to fit.
NOTE: Our customers have noticed that the shipping cost of this product is abnormally high. This is a result of the shipping companies "dimensional weight" calculations. Even thought these dividers only weigh a few pounds, they have to go in a large box box because of their shape. The shipping companies then calculate the shipping cost based on a 21 pound box.
Item:  CM1054A, CM1054B, CM1054C
Share
View full details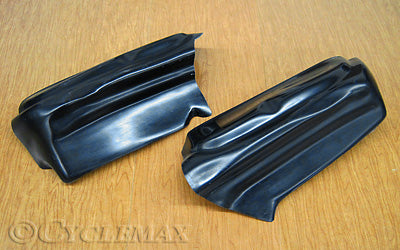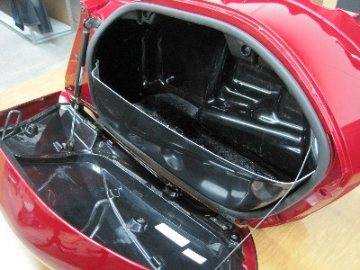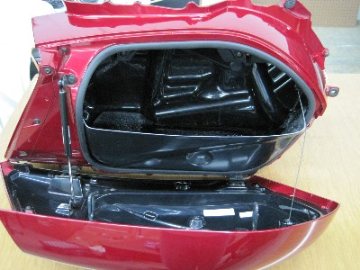 Dividers
Don't know why I waited so long to get these, they keep everything in its place, never going to loose that one glove again, the bike also handles way better because nothing is moving around in there! Best 80 bucks I ever spent!