Honda
Regular price
Sale price
$81.83 USD
Unit price
per
Sale
Sold out
This is a remote control. This OEM Honda controller is a direct exact replacement for the standard remote control that comes with Goldwing GL1800's. This key fob controller comes with a battery and instructions on how to program it to work on your bike. You do not need the original remote in order to program this for your bike. This will work with all Goldwing GL1800's from 2001-2017. Be sure to select the correct year of your bike when ordering. Note: These will not work on Euro spec bikes. 72147-MCA-671, 72147-MJK-N21
Item:   H72147-MCA-671, H72147-MJK-N21    Honda  
Share
View full details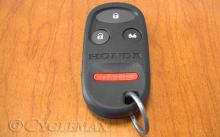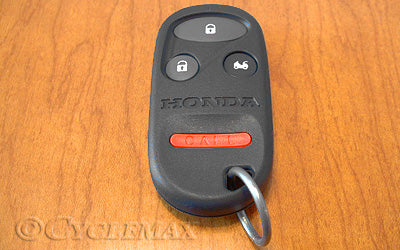 Remote Control for 2004 Wing
After 18 years I figured I should have a backup remote for my Goldwing in case something happened to the original. I have been buying items from Cyclemax for a number of years and they had what I was looking for. Great people to do business with. Now the USPS shipping was a little messed up. Took 8 days to get from Ohio to Michigan and tracking had the package moving between the Akron and Detroit post offices 3 times before it made its way to my house. Got to love the post office.
Remote FOB-2017 GL1832
Well, I was using instructions from the 2001-2012 Honda Service Manual as my newly purchased Honda 2012-2017 Service manual was yet to be shipped for programming the New Remote FOB. I also looked up some instructions from the GL1800Riders forum and they basically were the same instructions from the 2001-2012 GW's. They did not work for the 2017 GW. So once my 2012-2017 Service manual arrived I read the instructions and was able to program the remote on the 1st attempt! Yippy, it was frustrating after trying many times but never being able to get it programmed. Note: if you have 2012-2017 GW DO NOT allow the "RED" Open trunk button press to activate the RED TRANSMIT LIGHT IT WILL LEAD TO FAILURE TO PROGRAM THE REMOTE FOB! Yes, that simple misstep caused many failures based on the 2001-2012 GW Service manual instructions-which was obviously corrected in the newer 2012-2017 GW Service manual. Hope this helps someone who has 2012-2017 in their successful programming of the Remote FOB. Other than that SNFU all is good now!
请问如何編程?
请问如何編程?
How to program? How to program? please reply my email thanks
[****]
New fob
Haven't been able to get it programmed yet. I'll take it to a Honda show and get them to program it,