HeliBars
Regular price
$899.00 USD
Regular price
Sale price
$899.00 USD
Unit price
per
Sale
Sold out
This is a set of HeliBars. These replacement handlebars are made by Heli Modified Inc and are designed to replace the original Goldwing GL1800 and F6B handlebars. This kit comes with a tool kit to remove the left hand heated grip and has slugs welded in to the bars to accept dampeners or after market throttle controls. Because of the design of these bars, you do not need to re-use the handlebar weights but, you can if you want to.
The LST (Luxury Sport Touring) multi axis adjustable handlebars for the GL1800/F6B represents the longest and most intense development program HeliBars has undertaken in its 26 year history. Over two years were spent prototyping and perfecting the design. What our system offers the GL 1800 rider is nothing short of amazing. After many miles of testing, we confirmed that these bars will provide supreme long distance comfort combined with vastly improved handling.
The current GoldWing is a big, 900 lb. 2-up touring bike that handles extremely well for its size. It is considered the number one touring bike by many. Its power plant, frame and drive train are ideal for a touring bike. Quiet, smooth and powerful, the GL1800 easily moves 2 large adults and all their gear down the road on a magic carpet ride. That is until the stock handlebar position starts to wear the rider out. Back, shoulder, neck and wrist pain are common complaints by owners.
Some of the stock handlebar position deficits are:
The handlebar grips are angled too steeply back toward the rider. It feels similar to a wheelbarrow's handles. Not very ergonomic.

The handlebar grip ends are too close to the rider, resulting in a cramped feeling. The wrists are angled too steeply outward and the grip position is also too low.

The stock forged aluminum handlebars (separate left and right sides) suffer a fairly large degree of flexing. While this is not so noticeable on the interstate, it certainly is in back to back corners where the bike transitions quickly from leaning left to right. The separate left and right stock handlebars are not interconnected,so in bumpy back to back corners the perception is that the front forks are flexing. Most of the flexing is happening between the handlebar grips and the forks, but it is translated as a flexing front end.
The Horizon LST solves all the issues above.
Wrist angle is adjustable from 4 to 30 back. No more wheelbarrow feel.

The grips are elevated two inches higher than stock, depending on adjustment settings. A natural wrist angle is achievable with grips now both closer to the rider and higher. Bars are adjustable over a 3" range, forward and back, for a personalized fit.

LST handlebars, by design, rigidly interconnect the left and right grips with a robust, one inch solid aluminum crossbar. Flex has been reduced to almost zero!
The big GL1800 now corners more easily with less effort, and amazingly the "flexy fork" feeling has been nearly eliminated.
The LST was perfected over a two year period, and the process included countless design modifications to achieve these results. It is hitting the market highly refined, and it makes the big Wing feel like a whole new bike. A better one.
Video 3


Item:    HBLST01084-KITA    HeliBars  
Share
View full details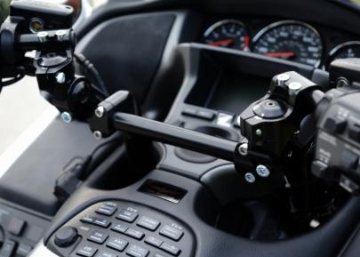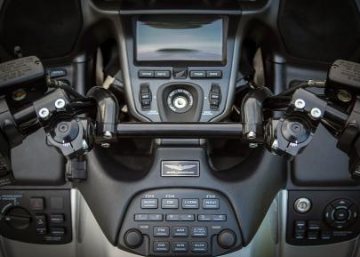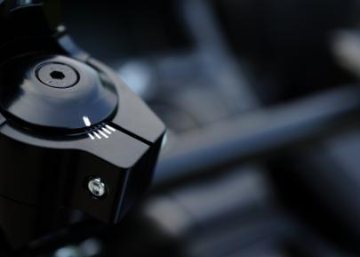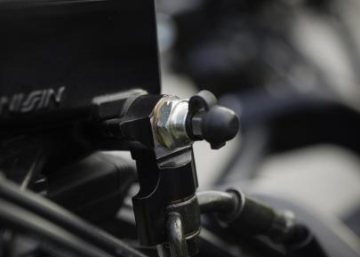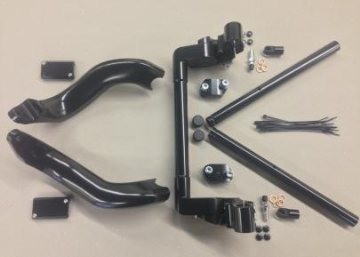 Very cool, cant wait to recieve my Madstad windscreen hoping to get more adjustment from the bars. Love thoes bars….. game changer!!
Heli Bars Hirizon LST
I purchased these because I had a set of Heli bars on my Indian Roadmaster. Absolutely loved them. The stock GL 1800 bars on my 2015 just are not comfortable at all. These have made all the difference in the world. I have to have shoulder surgery and these bars have made riding a lot more enjoyable with a lot less pain. I am leaving on a 10 hr run to Fl before surgery for PCB bike week
A friend and I installed the bars. It took us about 4 hours. It really wasn't that hard we just didn't work fast and bsed a lot. Highly recommend these bars. I received the bars in 3 days with free shipping from Cyclemax.