MBL Innovations
Regular price
Sale price
$74.00 USD
Unit price
per
Sale
Sold out
This is a handlebar riser kit. These risers are made by MBL Innovations and is designed to move the handlebars to a more comfortable position. Gold Wings have long been considered the pinnacle of comfort as far as motorcycles go, but many riders find that the handlebar positioning requires too much of a reach to allow them to ride for long stretches without causing discomfort. This kit consists of shims and hardware to change the positioning of your stock handlebars. Two versions are available - both bring the bars up 3/4" and back 1 1/2" toward you. Most riders also find that the span is too wide, so the standard kit (S) also narrows the span of the grips by 2-1/4". Tall riders with long arms may be comfortable with the span, so the wide kit (W) just moves the bars up and back without narrowing the span. These subtle changes can make a long ride much more comfortable, and reduce stresses on the wrists and back. This kit will fit all Goldwing GL1800's and F6B's from 2001-2017. 
The kit includes two CNC-machined spacers and all necessary hardware and instructions to complete the installation. Your stock cabling (throttle, brake, etc.) are not altered, and provide enough slack to make this modification. Some minor cutting of the top fork clamp's plastic cover is needed, but this is basically a hidden piece so extreme precision isn't needed. Be sure to select the kit you want when ordering. 1803S, 1803W
Item:    MI1803S, MI1803W    MBL Innovations 
Share
View full details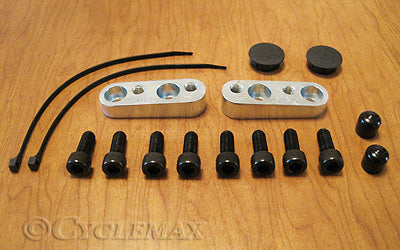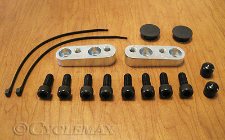 Great risers
The riser kit put my wife in the seat just where she was needed. Easy install too.
Thank you for your kind words about our GL1800 Handlebar Riser Kit! We're thrilled to hear that it has made a positive difference in your riding experience, especially for your wife. We understand the importance of finding the perfect position on the bike, and we're glad that our riser kit helped achieve that. If you have any further questions or need assistance with anything else, please don't hesitate to reach out. Happy riding!
MLB Handle Bar Riser from Cyclemax
So pleased with these risers. I can now settle completely back into my backrest. Steering has become much easier as well, with bars back toward me and closer together. Great product.
Received Quickly, Awesome Product
I'm 5'10" and had to lean forward to comfortably grab the handlebars. These risers brought them up to a much better position for me. If you're tall with long arms, you might just want to raise them only.
Handlebar riser kit
Quality item. Didn't like that there was an additional $46+ charge from UPS which made this kit cost me over $150. When I opened the box it came in, parts were everywhere! Luckily they were all there. Not great packaging. Simple enough to install although much more involved than what their instructions suggest. They definitely bring the bars back. They also raise them and bring them in quite a noticeable amount. Takes a little getting used to. The front end feels a little heavier now but, again, I just have to get used to the change. Quality seems pretty good and they fit perfectly. I didn't bother modifying the plastic shock cover as suggested. I just removed it. Cheers.
Feels good.
I installed it. I still don't understand what exactly I had to do with the cable ties. But all is in place and my sitting position is significantly better. Can't wait to try it on a long trip