Electrical Connection
Regular price
$34.95 USD
Sale price
$33.55 USD
Unit price
per
Sale
Sold out
This is a bluetooth auxiliary connector. This connector is made by Electrical Connection and is designed to allow you to stream Bluetooth audio from your phone to your 2001-2017 Goldwing or F6B. This all-new version plugs directly into the auxiliary connector, eliminating the need for the AUX cable or an RCA to 3.5mm adapter (more connection points are more points of failure). It is powered directly from your bike so, no batteries are needed with EC's built-in power "T Harness".  This plug and play connector is easy to install under your left fairing pocket and requires NO splicing. This Bluetooth version 5.0. design has much better audio than the previous design.  03215
Item:  EC03215  Electrical Connection   
Share
View full details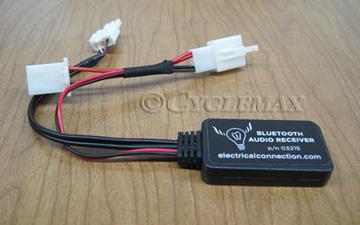 Worked great
I got this to connect my Zumo XT to my 2006 GL1800 so I could hear the Zumo through my corded headset and it works great. Had to add the ground loop isolator .
Dear Dwayne,
Thank you for your wonderful review of the GL1800 Bluetooth Aux Connector. We're thrilled to hear that it worked great for you and successfully connected your Zumo XT to your 2006 GL1800. It's fantastic that you can now enjoy listening to your Zumo through your corded headset. We appreciate your feedback and we're here to assist you if you have any further questions or concerns. Happy riding!
Warm regards,
Cyclemax
Bluetooth Review
Really works good, priced well, exceeds expectations.
EC Bluetooth for 2017 Gold Wing GL1832
The installation was a breeze! Connecting via my iPhone was smooth-the sound of my streaming music from Pandora sounded much richer than the flash drive I was using in the Tour Trunk USB connection. Very happy with the purchase. You really can't go wrong with Electrical Connection products! Cyclemax was prompt in getting the order fulfilled and on it's way!