Cyclemax
Regular price
Sale price
$92.00 USD
Unit price
per
Sale
Sold out
This is a GL1500 shifter pivot. This is designed to give stability to the outer end of the shifter shaft. The pivot assembly is made from billet 6061 aluminum with a Teflon coated bushing and high quality fasteners. The design of the OEM Honda shift shaft on the GL1500 allows for a lot of play which makes for sloppy shifts and premature oil seal failure. This simple bolt on assembly fixes the problem. It is simple to install and has a lifetime warranty. This will fit all Goldwing GL1500's from 1988-2000. This will NOT fit the 1996-2003 Valkyrie. This is available with or without a new shift shaft oil seal. Please make your selection when ordering.   CM1033, CM1033A
NOTE: Beware of poor quality imitations of this product being sold on eBay for a lower price. They are made outside of the USA of lower grade material, do not include the brass bushing and the company does not allow returns.  
Note: This may or may not fit on a bike with floorboards installed. If you are planning to attempt to install this on a bike with the heel toe shifter floorboards, let us know and we will include a longer bolt to give you a fighting chance.
Stabilizes Your Wobbly Foot Shifter
Corrects Misalignment Of Input Shaft
Reduces Effort Needed To Shift Gears
Prevents Shaft Oil Seal and Case Bearing Failure
Warranted For As Long As You Own Your Bike
You will love how your bike shifts or your money back!
Installs In About 1 Hour       
Every GL1500 Will Benefit 
Made from 6061 billet aluminum on a CNC
  Item:   CM1033
Share
View full details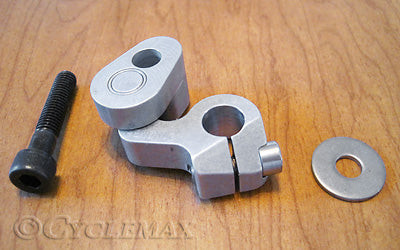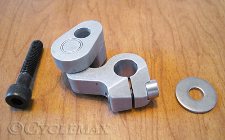 Works very well, really tightens up the shifting
Should be fine
I purchased one a couple of years ago for my '94 Aspy. Bought a '96 SE this year and the seal is bad, and there's no pivot installed, so I bought this one. The bushing appears to be Teflon, which is absolutely necessary. It's not yet installed. But, if the specs are the same re materials and dimensions, it should work great. One of the best things you can do for your old GL 1500.
Very pleased with the quick service and delivery. Will Cyclemax again for sure!!