Tucker
Regular price
Sale price
$344.95
Unit price
per
Sale
Sold out
This is a pair of 412 series rear shocks. These are made by Progressive Suspension and are designed to improve the ride and handling of your GL1500. These 412 Series shocks have been specifically designed for the GL1500 Goldwing and are simply the best value shock on the market today. The 412's simple, durable design means they will be an improvement to your Goldwings suspension performance for as long as you are riding it. The doublewall steel body construction with nitrogen charged, multi-staged velocity sensitive valving gives you smooth, consistent damping. A five-position cam style preload adjuster lets you dial in your ride whether you're a light rider or heavy hitter. These have chrome covers with heavy-duty chrome springs in progressive rate.
NOTE: These are NOT air shocks so, the factory air adjustment system will not be functional once these are installed.
Replace your old worn out rear shocks with these GL1500 Progressive Rear Shocks and feel the difference. These will fit all GL1500's from 1988-2000.  77-4223, 412-4223C
Item:   T77-4223   Progressive Suspension   
Share
View full details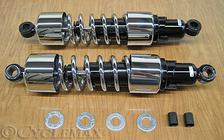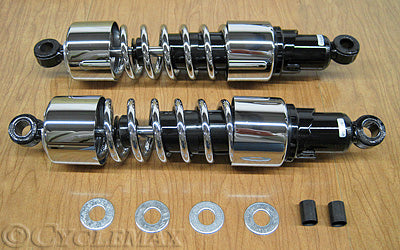 Great Shocks!!! Should have done this earlier
I like most, have the original air shocks on my Goldwing, I went to grease my drive shaft and when I went to remove the Right Air Shock, the bottom where the bolt goes through fell out when I removed the bolt!!!! I though of how many times the wife and I road on this shock and it scared me to think of what might have happened. Then I went in search of new shocks, As you know they do not make air shocks for this bike anymore and I came to my friends here at Cyclemax, after a short look I found the GL1500 Progressive 412 shocks. I quickly bought them, Let me say this, I should have bought them a long time ago, Great Value, Great Shocks, too bad I have to put the saddlebags back on they are very nice looking and improved the ride! She handles better, is smooth in the corners and I WOULD RECOMMEND THEM TO ANYONE NEEDING NEW SHOCKS! If you love your GL these shocks are for you.