SoCalMotoGear
Regular price
Sale price
$90.00 USD
Unit price
per
Sale
Sold out
This is a new style Pathfinder LED H4 headlight bulb kit. This high performance LED kit is made by SoCalMotoGear and is designed to be a direct replacement for the stock H4 halogen bulbs that came from the factory. This kit contains two bulbs. These are made in the 6000K color and the bulb separates from the base for easy installation. There are no fans to burn out, make noise or interfere with the audio system. These bulbs function as low beam and high beam just like the stock bulbs. They are available in two different kits. One kit is designed to fit the old style headlight that came on the 1988-1997 GL1500's. And the other kit is designed to fit the new style headlight that came on the 1998-2000 GL1500's. The only difference between these two kits is that the one for the 1998-2000 bikes includes a pair of shims that allow you to use standard H4 style bulbs in the proprietary Honda sockets of the new style headlight. Please make your selection when ordering. Keep in mind that if your 1988-1997 bike has a 1998-2000 style headlight in it, you need to order the kit for the new style headlight. These kits are rated at 3600 lumens per bulb when either low beam or high beam is on. These high performance LED's upgrade your lights to bright white (6000k) which makes you more visible on the road and draws less power from your battery and charging system. They seriously improve your lighting experience. This plug and play kit will fit all Goldwing GL1500's from 1988-2000. This will also fit the 1997-2003 Valkyrie Interstate models with dual headlights. GU58897, GU59820S
 Reasons to purchase this kit.
Compared to your stock incandescent bulbs, these are about 3 times brighter making you more visible, day or night.
Compared to your stock bulbs, these draw 50% of the power. Less power draw from your battery means less load on your alternator so you can run other electrical equipment or accessories.
LED bulbs are INSTANT ON – They do not require any warm up time and they may be compatible with headlight modulators. 

Unlike other LED designs, our lights are non-directional. This means you will have a further and wider beam pattern compared to other LEDs on the market.

These have a new passive cooling system, solid state design, no moving parts, no fans and no noise. Other cooling methods tested do not allow the heat to thoroughly dissipate, therefore causing premature LED failure. 
 
Although our LEDs have a long service life, we include a 1 year hassle free replacement warranty unlike other outlets that offer only 90 days.
Our kit is completely Plug N Play and includes everything you need to upgrade both H4 bulbs in your headlight. See part numbers below for early and later style kits.
Item:  SCMGU58897, SCMGU59820S   SoCalMotoGear 
Share
View full details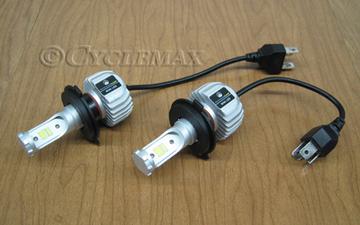 Nice headlights
Hot led lights for head and cornering replacements. Headlights are great, apparently I ordered the wrong cornering bulbs. After looking again, sure enough I did. The ones I need are not in stock, and I can't find my shipping order to return others