Muth
Regular price
$189.00 USD
Regular price
Sale price
$189.00 USD
Unit price
per
Sale
Sold out
This is a pair of LED Sequential Signal Mirrors. These are made by Muth and are designed to replace the glass portion of the stock mirrors on your 2018-2022 Goldwing GL1800. These are available in chrome glass or blue glass for reduced glare. They are also available with either red or amber LED's. Please make your selection when ordering. This includes hardware and instructions. 
NOTE: The 2018+ Goldwing uses a CAN Bus electrical system.  This means the accessory lights need to be wired directly from the battery through a fuse block.  The Show Chrome Accessory Isolation Fuse Block is Muth's recommended solution. If you already have this box for other accessory lights, and it has open slots, you do NOT need a new one. If not, we have them for sale on our site. The part number is B52-942. 
These Muth Signal mirrors have 3 high-intensity LED wedge shaped lamps to turn ordinary exterior rearview mirrors into safety features that command attention. When a turn signal is activated, the three wedges light sequentially to alert drivers in the "blind spot" of your intentions.
When emergency hazard flashers are used, both mirrors flash warning signals. The mirrors function as conventional rearview mirrors whether the signals or hazards are activated or not.
Muth Signal mirrors use LED lamps which illuminate 1/5 of a second faster than conventional incandescent tail lights. This provides drivers in the "blind spot" of the Signal mirror equipped vehicle an additional 17 feet of reaction distance when traveling at 65 m.p.h. Thus, unlike other accessories that soften an accident, Signal mirrors actually may help prevent one.
These will fit all Goldwing and Goldwing Tour models from 2018-2022  956-SA, 956-SR, 987-SA, 987-SR
Item:   M956-SA, M956-SR, M987-SA, M987-SR   Muth    
Share
View full details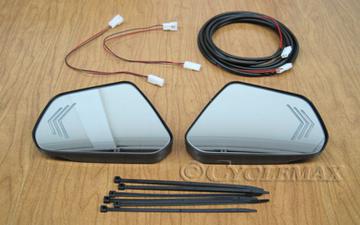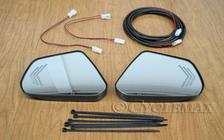 Package was delivered to wrong address