Show Chrome
Regular price
Sale price
$74.75 USD
Unit price
per
Sale
Sold out
This is a pair (one left and one right) of saddlebag side lights. They are made by Show Chrome and are designed to replace the saddlebag side reflectors on all years of  Goldwing GL1500's from 1988-2000. They are a new design with six replaceable light bulbs per side instead of the usual four. The lens and the housing are easily unscrewed to allow you to replace bulbs if necessary. The replacement bulbs for this is part number B2-282. There is some splicing required. Instructions are included. Great for added visibility and that show look. The lens is screwed to the back housing on these. So, if you ever need to replace a bulb, you will need to unscrew the lens from the housing to get to the bulbs.   2-346A
Item:   B2-346A    Show Chrome  
Share
View full details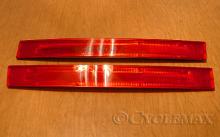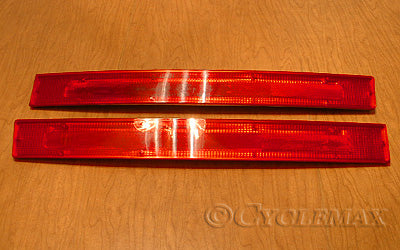 GL1500 Saddlebag Side Light Set
The 6 blub Saddlebag Side Light Set installed the same as the 4 blub set, which I installed 23 years ago. Replacing the set of 4 blub Saddlebag Side Lights as the bulbs heated the lenses which made yellow spots plus one of the lenses was cracked.
Dear John,
Thank you so much for taking the time to share your experience with our GL1500 Saddlebag Side Light Set.
We're sorry to hear about the yellow spots and cracked lens on your previous set. Our team understands how frustrating it can be when a product doesn't meet expectations, which is why we always strive to provide high-quality replacements. If there's anything else we can assist you with, please don't hesitate to reach out.
Warm regards,
Cyclemax